Finalising my World Book Day series of sessions, today we're adding some contrast and texture to The Reader. Its time for highlights and shadows.
Session 1 saw the placement of images and session 2, I added tones and shading to make the elements blend together. Between session 2 and 3, I added a multitude of extra detail elements to really bring the magic together, creating a feeling of being immersed in the literature along with the reader, going on the journey into other worlds with her. I didn't video this part, as it would have been very long and to be honest, it was more of a free flow, decide as I went process!! (Haha) Below are a collection of the elements I added – can you work out which books they come from?
Step 3; highlights, shadows and texture to create contrast and brand style. In the video below, I go through each element individually and add shadows and highlights to each. This gives contrast and depth to each variable and also further confirms the source of lighting in the image (the moon and the lamp). I then add my own unique set of adjustments and texture to create my The Photography Boutique / Life of Whimsy brand style that gels all my images together. Check out the video…(This is around 1hr 30mins work, condensed into 4mins).
…and the final image of The Reader is finished: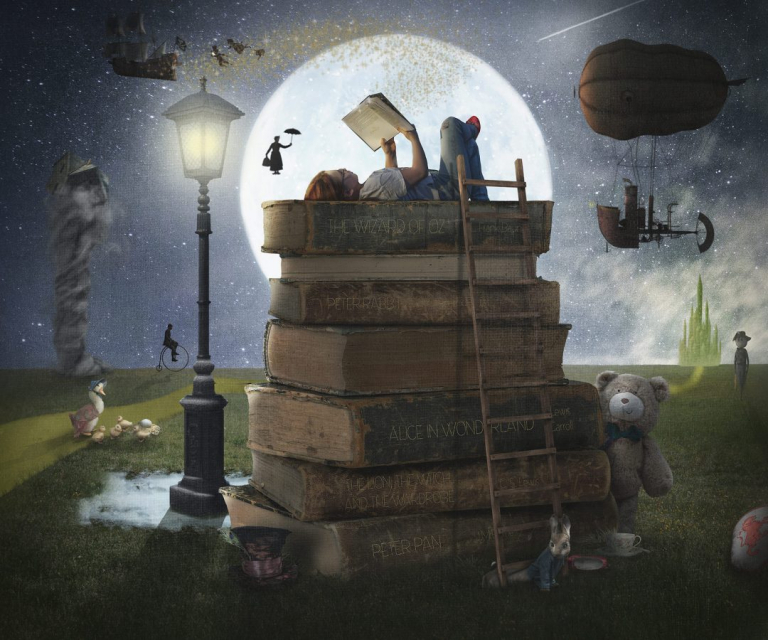 What do you think? Wouldn't you just love to spend a few hours up there, absorbed in a good book?! Did you enjoy seeing my behind the scenes process into creating a Whimsy from scratch? I LOVE what I do!

If you would like to check out more of my Whimsy templates, visit Life of Whimsy here.
It's World Book Day tomorrow – what are you going to read?