Continuing with my World Book Day series of sessions, today we're adding some realism to this fantasy image. Its time for toning and shading.
SO.
Much.
Fun!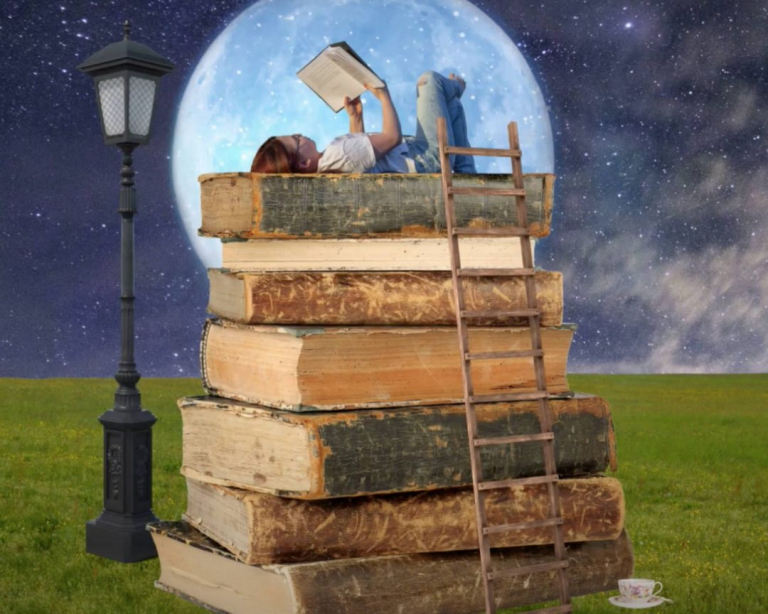 So, yesterday, we left Daisy lying on a bright pile of books, that were floating on a bright-sunny-day field of grass, under a starry night sky! Obviously these elements don't all blend together into one cohesive image. This is where the fun begins!
Step 2; toning & shading to create realism and bed the elements within the image. In the video below, I start by adding Beary to the image. I couldn't forget to add him; he's been in most Whimsy's I've created, particularly when Daisy is in it too. Then I started to blend the elements, darken / brightening as needed, de-saturating and colour balancing the individual parts to make them look like they are all part of the same image. I also added grass shoots to the bottom of the books, ladder and lamp, so that they lose that floating look. Finally, I added shadows, not only to the grass around the main objects but also on the objects themselves, wherever it was appropriate. Check out the video…(This is around 1hr 15mins work, condensed into 4mins).
I hope you'll agree there is a world of difference between image 1 and image 2.
But I'm still not finished. Oh no! Check back again to catch Part 3 ~ Contrast (Highlights & Shadows). This is where the image becomes more painterly and alive! I LOVE this part.