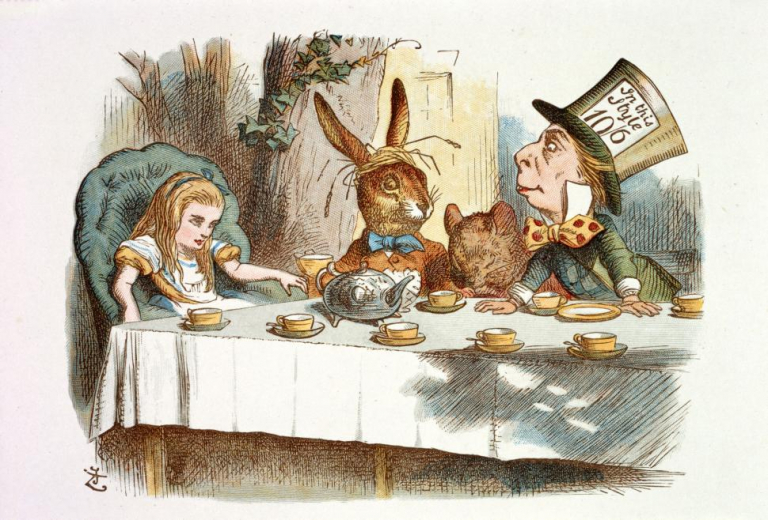 World Book Day 2020
It's that time again! The 'Celebration Day' that sends a shiver of fear into most parent's hearts! Yes, its World Book Day today.
I've actually gotten off lightly – the twiglets school just asked the kids to decorate potatoes as their favourite character – although as per usual, Daisy only informed me of this on the Sunday night before taking it in on Monday! She ended up with one of the less than fresh green potatoes with a few shoots growing off of it – and after a looooot of discussion about turning this semi-mouldy thing into a Tardis, she settled for Harry Potter.
However, I've LOVED seeing all the amazing costumes on my Facebook Timeline this morning. So many inventive parents children out there! 😉
So one of my favourite books growing up was Alice in Wonderland. And one of my lovely friends has a daughter that looks just like Alice – so of course, I grabbed the opportunity to create an Alice portrait…
Alice in Wonderland
Alice's Adventures in Wonderland (commonly shortened to Alice in Wonderland) is an 1865 novel written by English author Charles Lutwidge Dodgson, under the pseudonym Lewis Carroll. It tells of a young girl named Alice falling through a rabbit hole into a subterranean fantasy world populated by peculiar, anthropomorphic creatures. The tale plays with logic, giving the story lasting popularity with adults as well as with children. It is considered to be one of the best examples of the literary nonsense genre.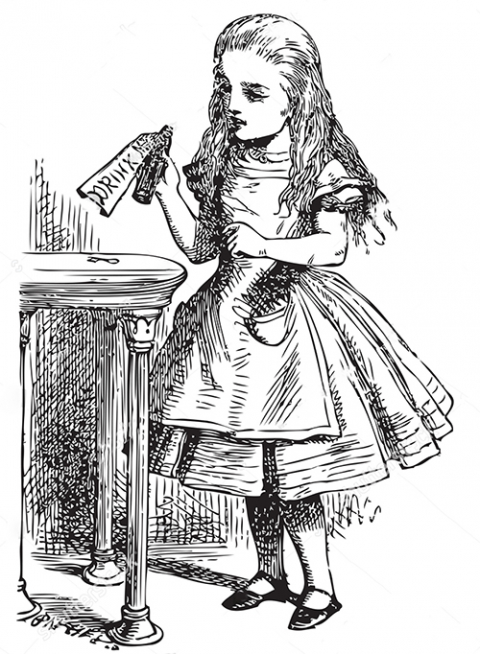 Alice
"It's no use going back to yesterday, because I was a different person then."

Alice, Lewis Carroll
When writing on her personality in "Alice on the Stage" (April 1887), Carroll described her as "loving and gentle", "courteous to all", "trustful", and "wildly curious, and with the eager enjoyment of life that comes only in the happy hours of childhood, when all is new and fair, and when Sin and Sorrow are but names — empty words signifying nothing!"
My lovely friend, Naomi, has three beautiful daughters but her eldest looks like the perfect Alice. So we met up a couple of times to get some different positions to recreate my take on the classic images.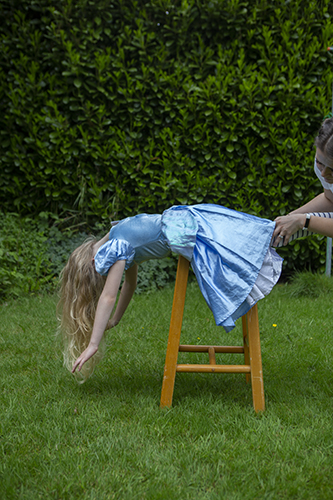 As you can see, the original is very different to the final image. And THIS is what a I LOVE about photography and creating visions.
Every bit of the image below has been created for the final image. Obviously I couldn't drop Esma down a hole so we 're-created' it upside down and then I turned her over (in photoshop) and added all the extra bits and pieces that you associate with Alice falling down the rabbit hole.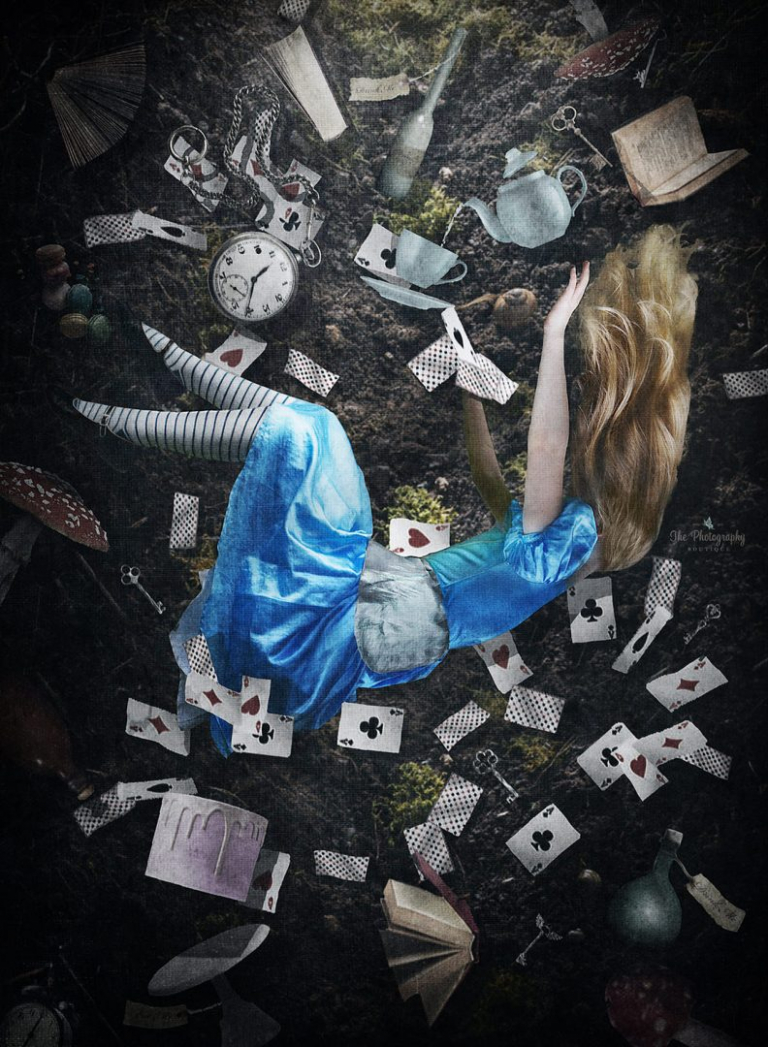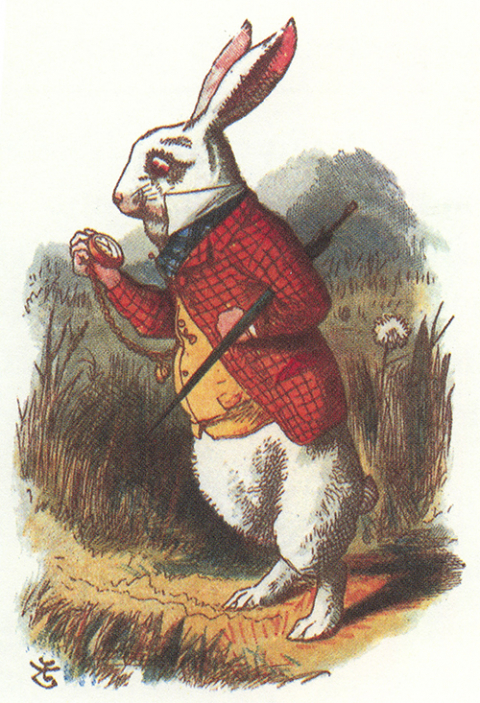 The White Rabbit
Oh dear! Oh dear! I shall be too late.

White Rabbit, Lewis Carroll
"And the White Rabbit, what of him? Was he framed on the "Alice" lines, or meant as a contrast? As a contrast, distinctly. For her 'youth', 'audacity', 'vigour', and 'swift directness of purpose', read 'elderly', 'timid', 'feeble', and 'nervously shilly-shallying', and you will get something of what I meant him to be. I think the White Rabbit should wear spectacles. I'm sure his voice should quaver, and his knees quiver and his whole air suggest a total inability to say 'Boo' to a goose!"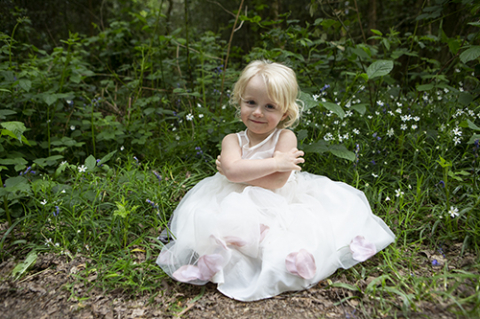 Whilst shooting Esma's images, we were joined by her youngest little sister, Amelia, in her pretty white dress. So I suggested that I could make her into the white rabbit…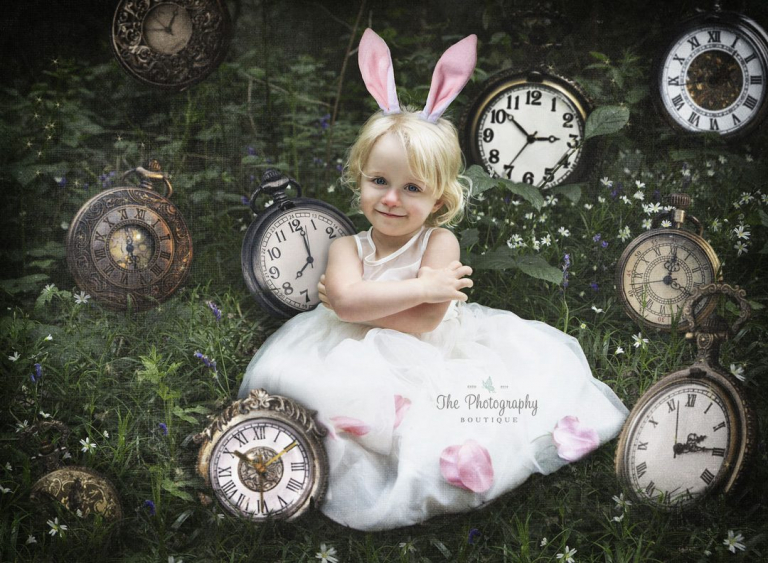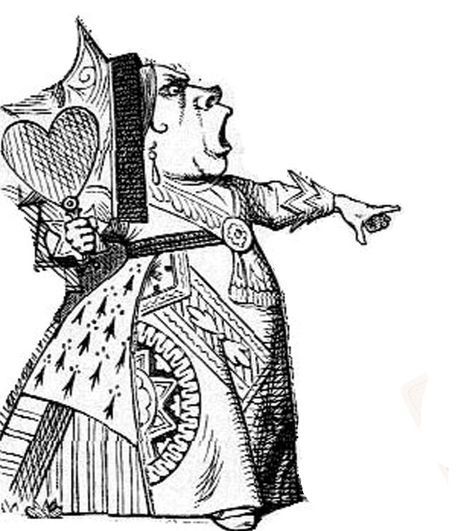 Queen of Hearts
The Queen had only one way of settling all difficulties, great or small. 'Off with his head!' she said, without even looking around.

Lewis Carroll
The Queen is believed by some to be a caricature of Queen Victoria, with elements of reality that Dodgson felt, correctly, would make her at once instantly recognisable to parents reading the story to children, and also fantastical enough to make her unrecognisable to children.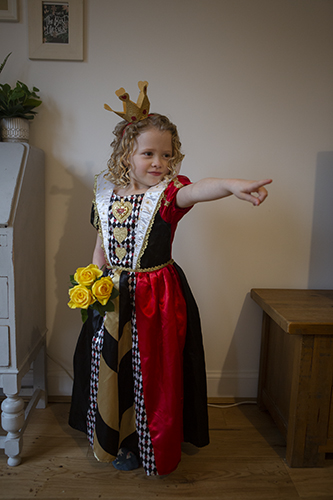 Naomi's middle daughter, Harriet, wasn't at the original shoot. When I decided to post these for World Book Day, I suggested that we could do a character for her too. And she chose The Queen of Hearts – and nailed that haughty, bossy stare! LOL!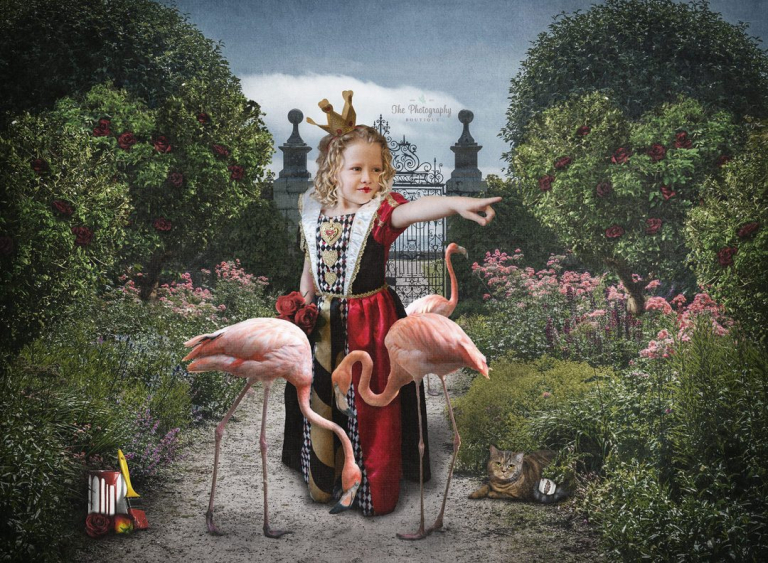 Check back very soon to see the incredible 'behind the scenes' video of the edit for this image. (It took 2 and a half hours – I've sped it up into just 7 minutes!) 😀
"'And what is the use of a book,' thought Alice, 'without pictures or conversation?'"
A 155 years after its publication, we're still talking about the way this book can invoke both amusement and contemplation in readers of all ages. What's a book without conversation, indeed.
Alice's Adventures in Wonderland represents the child's struggle to survive in the confusing world of adults. To understand our adult world, Alice has to overcome the open-mindedness that is characteristic for children. Apparently, adults need rules to live by.
So why not read this with your kids this week. Reading is definitely an adventure!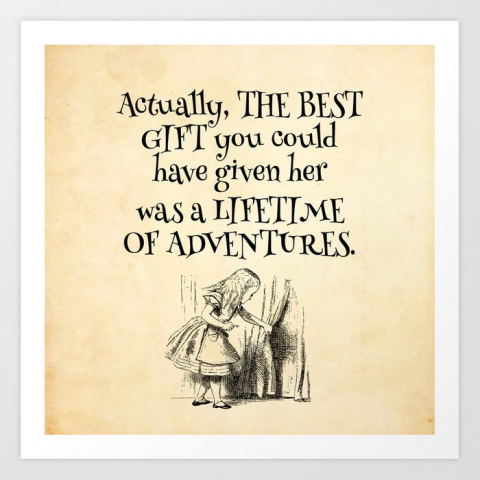 Visit World Book Day