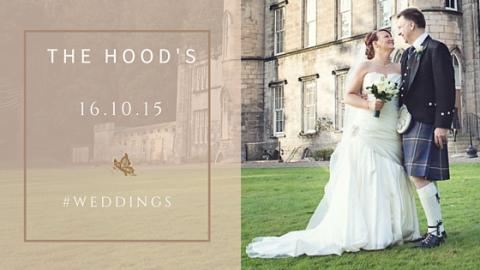 I visited Scotland for the very first time last October!!! Hard to believe but I had never been further North than Scarborough before that! LOL! So the occasion? My fabulous friend Paula was marrying her sweetheart, Murray – in a castle no less!! I flew from Gatwick on the Thursday morning and Paula picked me up at the airport. I was then educated in the art of the Scottish breakfast and introduced to potato scones!! Yummy!!
Then it was away to the castle where I would stay for the next couple of days. Melville Castle is a beautifully romantic venue, on the South East outskirts of Edinburgh, in Lasswade. Bride Paula, her Bridesmaid Victoria and her gorgeous cheeky daughter and flower girl, Lucie, put the finishing touches to the marquee (where I was also introduced to scottish tablet ~ homemade fudge) and then it was time for a quick dinner and bed before the wedding morning arrived.
Friday morning dawned with fog surrounding the castle and across the 34acres of land but the weatherman promised sunshine; and he didn't disappoint. After breakfast (and a looooong, but lovely chat with two American sisters visiting the castle) it was time for us all to get ready for the main event!
From gorgeous Bridal Prep, until the last photobooth poses were posed, I had a blast shooting this wedding!! Lucie looked totally adorable in her blue dress and fancy up-do, Murray impressed in his traditional Scottish kilt (- I finally know the truth about kilt wearing men!!!) but my darling Paula…? You looked absolutely stunning – and I will forever remember the love and happiness that shined on your face, surrounded by your loving family and friends, in a Scottish castle, on that day, Friday 16th October 2015.
Lots of love, Sally xxx